AVD's Coordinator has joined the Commonwealth Youth Climate Newtwork (CYCN) at London+20 and Rio+20
The Coordinator of Vital Actions for Sustainable Development (Actions Vitales pour le Developpemnt durable (AVD), Jean Paul Brice Affana, has joined the delegation of the Commonwealth Youth Climate Newtork (CYCN) at the ''London+20'' youth-led event on sustainable development as well as at the United Nations Conference on Sustainable Development (Rio+20) all held last June respectively in London, UK, and in Rio de Janeiro, Brazil. The CYCN was funded by the Youth Affairs Division of the Commonwealth Secretariat, which is based in London, UK.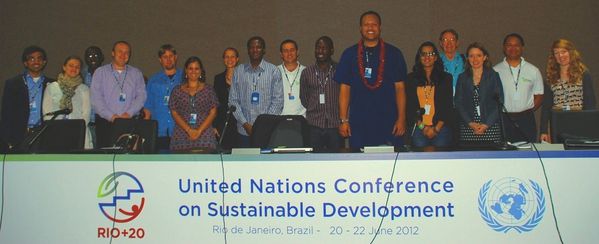 From 6 to 23 June, 2012 a group of six environmental young leaders from Australia, Cameroon, Canada, New Zealand, Pakistan and Zambia represented the network at the conference in Rio de Janeiro where they organized a series of events and activities, and also supported other global youth and civil society organizations to design ''The Future We Want'', the outcome document of the conference. On 17th June, they delivered a successful side event, ''Achieving a sustainable future in Rio: what can do a Blue Economy?''. This event, attended by over 25 participants, considered the implication of climate change on young people living in Small Islands Developing States.
Before Rio+20, the youth delegation also co-organized ''London+20'' an event initiated to empower young people in the United Kingdom on their role towards a successful Rio+20 Conference. The event held at the British Youth Council in London, on the 5th of June, the World Environment Day, with twenty (20) participants who improved their knowledge on the UN negotiation process on sustainable development. The day-long event was organized under the slogan ''The UK Youth Committed to The Future We Want''.
On the occasion of the International Youth Day 2012, the Commonwealth Youth Climate Network (CYCN) releases worldwide the report of the participation of its members to the two events (Rio+20 and London+20) all held last June.
The press release about the reports is at: http://www.mediafire.com/view/?2lz58f5bt65zba5
You can access both reports and download them at:
1. CYCN at Rio+20: http://fr.calameo.com/read/001329964132c08db402a
2. CYCN at London+20: http://fr.calameo.com/read/00132996419b0e8e17068