Call for participants to be local partners !
Vital Action for Sustainable Development (AVD) willorganize on August 3rd and 11th, 2010 two videoconference sessions during the 5th World Youth Congress to be held in Istanbul on July 31 to August 13 (www.turkiye2010.org). The videoconferences aim to connect African youth organizations that are working on sustainable development and climate change with discussions focused on the Post-COPenhaguen15 Agenda.
We will select 50 youth organizations all over Africa to be our local partners. The application form attached hereby will serve to select the best organizations. Find attached the application form in English and French as well as the project concept note (only in French. More information in English on the Congress' website).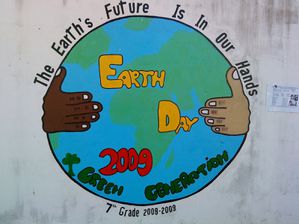 If selected we will work with you to host one videoconference in French on the 3rd of August (if you are part of French speaking Africa) or you will host a videoconference in English on the 10th of August if you are from the English speaking part. Those dates are soon to be confirmed to selected organizations. We will also organize a session test on August 1st with all local partners (to be confirmed) in order to make sue everything works correctly.
Please note that we are not able to provide any financial assistance to selected organizations to host their event. We can only provide institutional support in order to assist them to fundraise in their country for the videoconference's organization expenses. Also note that your participation in this project will enable us to include you as delegate at the next World Youth Congress.

Please help us spread the word by publishing this message and the application forms within your networks (Facebook, Twitter, Blog, websites, malling list); to help us mobilize vibrant youth interested in climate change, and related topics. The deadline for the application form is July 11th, 2010 at midnight GMT.
For any additional information, and to get the application form please contact us at avd.organisation@yahoo.fr
The Organizing Team