The first Clean Development Mechanism Project initiated in Central Africa
Cameroon has created some wells meant to transform methane in to bio-gaz. These wells are found in the Garbage dump of Nkolfoulou in the out sketch of the Yaoundé city. It is the first MDP Project in Central Africa ever since the Kyoto protocol was signed in 1992. It should be said that the project brought to Cameroon by the Hygiene and Sanitation Company of Cameroon (HYSACAM) had benefited from the financial support of World Carbon Market. This activity consists in picking up dirt and burning it. Once the garbage is gathered at the transformation site of Nkolfoulou, they are buried in wells where decomposition takes place. "In the transformation mechanism, the rotten garbage drains out a black substance called methane which is 21 times more polluting than carbon gas," said Mr. Paul Alain NANA - the environmentalist and Program Officer of the youth-led NGO AVD.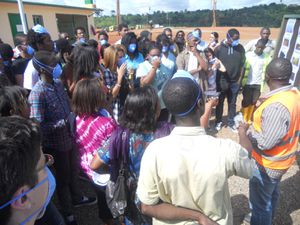 According to the person in charge of the Nkolfoulou garbage dump - Bikoe Bertrant Noel, the company is doing everything possible to reduce the environmental damages that the rubbish can cause. "In order to prevent pollution, we cover up the wells with watertight membranes. The captured gas is conducted by a pipe network towards a steamroller. This gas is later on burnt and thrown in the nature as water and carbon gas. Therefore, our company treats 150 m3 of CH4 per day. It is a Citizenship Project set up to protect our environment."
As for the HYSACAM's authorities, a similar project will be exported to Gabon in the days ahead. Undoubtedly, this will extend the mechanism of sustainable development in countries which made up the Congo Basin.
The next most important step will be the creation of green open air spaces. The production of electricity through garbage transformation will follow as it is the case with the Durban Waste Solid Company found in South Africa. However, HYSACAM still faces some difficulties, and the reason is that the national electricity company of Cameroon, AES SONEL, is the only authorized company that supplies energy in the whole country, from urban to rural areas..
Today, the Hygiene and Sanitation Company of Cameroon (HYSACAM) is opening its doors to young Cameroonians. 120 students visited the company from 9th to 11th of May 2012. It was for the students, an amazing experience to discover the equipments and the transformation process that takes place in this company. In fact, all of them were flattered, and others have promised to come back when they will get a chance.
The visit goes in line with the "Young and Clean Energies", an project initiated by the French Institute in Cameroon, in partnership with two Non-governmental Organizations called Vitals Actions for Sustainable Development (AVD) and Mieux-Etre respectively based in Yaoundé and Douala.
This is HYSACAM's practical way of managing garbage in Cameroon.
By: Jonas YEDIDIA ALIROU, Communication Officer, AVD